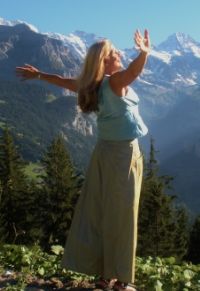 Sanna Lamb
is a 
Change Expert & Transition Coach

with 20+ yrs experience in International Career Development, Entrepreneurial Coaching & Integrative Body-Mind Therapies. Co-Leader of an adult education center in the Swiss Alps for 14 yrs. Sanna has travelled the world gathering the best, most effective tools for changing your relationship to Body, Money, Creativity, Work… and especially to CHANGE itself! 
 Swedish, American & Swiss
, Sanna has trained globally & extensively over 20 yrs. & draws on her immersion in internat'l work-life transitions; innovative branding/message work;
supporting clients to liberate their creative resources and bring more of themselves into everything they do.
Sanna lives
a highly creative life in Switzerland, dividing her time between its capital city and the magnificent Swiss Alps, where she spends quality time with her family, life partner and 4 teenage children. Sanna travels abroad regularly to continue learning, teaching and networking.
In lively
and informative teleseminars and phone sessions, Sanna helps clients cultivate their natural talents & learn practical skills to create professional and personal lives that are both prosperous and nourishing.  She helps clients strengthen their core,  grow their courage and confidence to show up and realize more meaningful & sustainable results with less effort.
Philosophy:
What I most wish for my clients
is the ease and joy that comes from discovering their inner strength & true spirit; Living, working from Clarity & Focus for their projects; Sensing the meaning, valuing and artistry of their work for satisfying results & peace of mind.
My gift is in guiding them
to access their Natural Genius—what they do best–and what's getting in the way. I teach tools for presencing and partnering for creative breakthrough and growing in spaciousness that's necessary to attract support and make better decisions with intuitive ease. 
None of us ever intellectually
 "arrives"—there's always more to learn and to create. It's who we are right NOW, as well as who we can become through what we do, that matters. Finding your voice is a learning process that's essential for evolving yourself, your relationships, your communities, and world.
In the business of co-owning
an adult education center for 14  years, I explored numerous forms of personal and professional development, and developed an integrative body-centered approach that is the most transformational model I've come across. The body never lies and it's the process of recognizing our individual and collective strengths—our Essence—that counts and shapes our lives.
My approach
is to build upon what comes naturally, "the elusive obvious" while fostering awareness for common ground and co-creativity. I partner with multi-talented professional women with a global mindset who dare to live their truth, express authentic style and deliver vibrant contributions.
Cheers to your Flourishing!